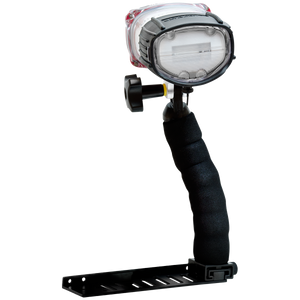 Ultrapower Underwater Strobe Head with Diffuser Premium Package
Product Highlights
Every feature from the Ultrapower UXDS-3 Series Dive Package, plus:
9.5" YS Flex Arms
Tray for Camera Housing
This Bundle Includes:
Ultrapower UXDS-3-HED Underwater Strobe Head with Diffuser
Buy Separately >
Waterproofing

Safe to use at a maximum depth of 197'. The battery compartment cap is secured via double o-ring seal as is the main body of the housing which also has a gasket as an enhanced barrier against water penetration. To eliminate possible leakage through the housing, Ultramax has used a simple reed switch controlled by a powerful external magnet. The battery compartment is completely isolated from the electronics in order to prevent water damage to the strobe if the compartment is accidentally opened or batteries are changed when the unit is still wet from a dive.
Guide Number

Features a GN of 66' at ISO 100 on land.
Power Rating

Features a power rating of approximately 25 watt-sec.
Coverage

Offers a coverage angle of 90°, which is 50% wider than Ultramax's previous model and can be increased to 100° using the supplied diffuser. The diffuser also softens the light to prevent backscatter, glare, and hard shadows.
Color Temperature

Daylight-balanced at 5700K.
Modes and Triggering

Offers manual exposure control. There are 5 pre-flash settings to synchronize with the built-in flash of most digital compact cameras. Choose from 5 power/brightness output levels ranging from 20-100%. The strobe also has slave functionality, allowing it to be triggered by the firing of another flash. An optional Fiber Optic Cable Kit (#UXDS-FOC) is also available.
LED Indicators

There are five LEDs that indicate power level, along with a green LED power ready light featuring a blinking function that indicates low battery.
Power

Runs on 4 AA alkaline or NiMH batteries, which are available separately.
Construction Details

Durable housing made of corrosion-resistant polycarbonate.
Mounting

Standard YS connector for attachment to a lighting arm with a YS mount, such as Ultramax's UXFA-1 or UXFA-2 Flex Arm. This arm can then be mounted onto their UXST-1 single or UXST-2 dual lighting arm tray or another tray with standard T-1 connectors. These trays also give you a mounting point for your camera housing and provide improved handling and balance beneath the water's surface.
9.5"/24cm Flex Arm with Foam Grip for Underwater Light or Strobe UXFA-1
Buy Separately >
Flex Arm

The 9.5" Flex Arms features a standard YS connector on the top for light attachment and a C-1 type connector on the base for tray mounting. The versatile arm is articulated for easy, adjustable positioning of the light, and the neoprene foam cover provides a comfortable grip. The arm's knuckles/joints are precision-formed out of acetal copolymer, allowing for stiffness coupled with maximum flexibility. The base is made of anodized aluminum.
Strobe Tray for Underwater Camera Housing and Single Flex Lighting Arm 19cm UXST-1
Buy Separately >
Tray

The anodized aluminum 19cm Strobe Tray for Single Flex Lighting Arm and Underwater Camera Housing is configured with a 1/4"-20 threaded stud for an available compact underwater camera housing, such as the ULTRAMAX UXDV-3. The tray provides improved balance and handling beneath the water's surface.
ULTRAMAX ULTRAPOWER UXDS-3 Digital Underwater Strobe Head with Diffuser
9.5"/24cm Flex Arm with Foam Grip for Underwater Light or Strobe
Strobe Tray for Underwater Camera Housing and Single Flex Lighting Arm 19cm
Limited 1-Year Warranty