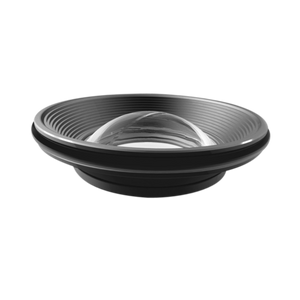 Wide Angle Lens – 67 mm thread mount
Prdouct Highlight
Wide Angle Lens with a 67mm thread, which fits over the housing's port and can be installed and removed during the course of the dive.
Perfect for shooting seascape, divers, ship wrecks and schools of fish, without moving further away from the subject, thereby still taking full advantage of water clarity and artificial light sources.
Multi-layered anti-reflection coating on both sides of the lens, which significantly reduces lens flares. 
Fits ULTRAMAX UXDC16 Underwater Digital Camera by using 52~67 Adaptor Ring (Optional Purchase).
Can be mounted on  67mm threaded lens ports or other lens ports by using an adaptor.
Specifications
Features a 67mm thread mount
Depth rated to 50 meters / 160 feet
Magnification (angle of coverage recovery): 0.75X (100%)
Lens material: Hard coated plastic dome and aero grade aluminum alloy
Weight (on land): 203g
Dimensions: Ø 118mm x 32mm (D)