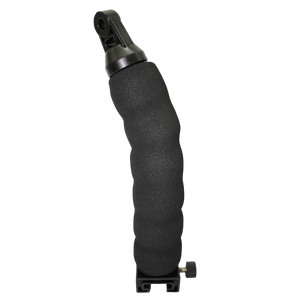 9.5"/24cm Flex Arm with Foam Grip for Underwater Light or Strobe
This 9.5" Flex Arm with Foam Grip features a standard YS connector on the top for light connection and a C-1 type connector on the base for mounting onto a tray. It is compatible with the UXDS-1 Digital Underwater Strobe Head and ULTRAPOWER-II 6W LED Wide-Angle Video Dive Light. It allows you to mount your strobe above and to the side of the camera's lens to reduce or eliminate glare and the backscatter effect. The versatile arm is articulated for easy positioning of the strobe head or LED light, and the neoprene foam cover provides a comfortable grip. The flex arm can easily be installed on UXST-1 Strobe Tray.

The arm's knuckles/joints are precision-formed out of acetal copolymer, allowing for stiffness coupled with maximum flexibility. The base is made of anodized, marine-grade aluminum and has a thumb screw connection for easy, secure mounting on the strobe tray. The foam grip can be easily removed for thorough rinsing after saltwater dives.
Product Highlights
9.5" Length
Standard YS Connector
Soft Neoprene Foam Grip
For Versatile Maneuvering/Various Angles
Connectors
Standard YS on top for light connection
C-1 type on base for mounting onto tray
Material of Construction
Joints: Acetal copolymer
Base: Anodized, marine-grade aluminum
Grip: Neoprene foam
Length
9.5" / 24 cm